Not Every Move Is A 'Chanakya' Move
End of a Beginning or A Beginning of an End
An incident alone has the potential to redefine the fate of an individual and when it comes to politics, the rule gets all the more effective. There are many such instances in Indian politics but the one that gets a special mention in the context of Uttar Pradesh politics happened in 1989 when Mulayam Singh Yadav, already a veteran of 22 years in active politics was elected by MLAs of Janata Dal against Ajit Singh as the Chief Minister of Uttar Pradesh for first time. It was a notable setback for Ajit Singh's political ventures that hurts him even today and he never got to recover.
In 2007 Mulayam Singh Yadav did not support Sonia Gandhi's candidature for Prime Ministerial candidature and delivered his strong political intentions. By the year 2012, Mulayam Singh Yadav appointed his son Akhilesh Yadav as successor and Chief Minister of UP. Such political events in history prove that one decision can change the direction of politics. In one such event exactly on 12 September 2011, Mulayam Singh Yadav was ready along with his brother Shivpal Yadav and hundreds of supporters on Vikramaditya Marg outside Samajwadi Party office holding a green flag. The flag was meant to signal the movement of his son Akhilesh Yadav in a modified bus renamed Kranti Rath. Akhilesh Yadav went ahead touring the state as Shivpal Yadav handed over a purse to meet the expenses.
Youthful Akhilesh took the most populous state of UP with a storm. For youth he was one of them, for elders he was the visionary, for females he had their hopes – the result Akhilesh Yadav delivered what even his father Mulayam Singh Yadav could not achieve despite thrice being Chief Minister of the state. A government with absolute majority for Samajwadi Party in Hindi heartland of Uttar Pradesh.
Dates are not erased in history and people remember them in politics. Formed in 1992, SP was all set to form the government fourth time within 20 years of its inception. Setting aside all speculations, Mulayam Singh Yadav crowned Akhilesh Yadav as Chief Minister of Uttar Pradesh – another event which changed the destiny.
But as events are important in history so is the saying-Kingship knows no Kinship. After five years since Akhilesh undertook the journey on his Kranti rath, division between big faces of SP surfaced in such a manner that whole party now appears divided in two groups – Akhilesh and Shivpal. A simple decision for removal of two ministers and one officer has given birth to the internal differences which has forced SP at cross roads. Helpless are the SP workers because they did not hesitated to bear the brunt of police lathis on them just looking at these faces of their party. Now they are also looking for a better place among these two faces.
Political pundits may analyze the developments as per their preference but the real casualty has been inflicted on Samajwadi Party. Experts claim that the developments have been detrimental for Akhilesh Yadav as he lost the battle due to re-induction of ministers and more power delegation to Shivpal Yadav as he was appointed as state president but politically things have gone in his favour, at least this is perceived by the loyalist of Akhilesh Yadav.
People close to Akhilesh Yadav often confide that the Young Turk of socialism is clear about his priorities. His recent statement that he should be given free hand in selection of candidates reflect since he held the rein so it is his responsibility clearly speaks about his clear mandate. Mulayam Singh Yadav has often stated that by passing the baton to Akhilesh he has made his party younger. Nobody knows what is in store for future but the writing on the wall is clear – Akhilesh is here to do active politics for next three decades. SP has found a face in Akhilesh Yadav who can take the party ahead keeping in sync with next generation. Even after four and a half year of his governance, not a single charge of corruption has been hurled against him. But with these differences, SP is allowing to slip a leader from its hands that would have steered it future shedding the rustic image of the party. Remember Akhilesh Yadav will stay and it is now SP to decide about its future.
Known for its anti computer and against English image, Akhilesh Yadav has quietly transformed the lethargic SP into a modern hi-tech computer savvy political outfit. The party now boasts of social media accounts on facebook and twitter, dedicated mobile app, soothing and melodious election slogans and songs. Akhilesh even bought the copyright from Ricky Martin's "We Didn't Start The Fire" and based SP's theme song on it making it musical. The steps transformed the party as youth friendly and attractive to next generation. Any move to destabilize Akhilesh Yadav will result in sabotaging the party. The winner is and will remain – Akhilesh.
SP chieftain Mulayam Singh Yadav had developed loyal voters and dedicated workers but Akhilesh Yadav has taken them a step forward. Nowhere in the past the slogans – ìYeh Jawani Hai kurban, Akhilesh Yadav tere naamî – was heard. There are now thousands of young workers who dare to face the lathis police just by taking names of Akhilesh Yadav. Sadly hundreds of them have been expelled from the party. They still remain dedicated to Akhilesh as MLC Sunil Singh Sajan wrote on his facebook wall with Akhilesh's picture – Tera tujhko arpan. They may not be in the party but are with Akhilesh so it is loss of SP to lose such a loyal young brigade.
Despite being 25 year old party SP still relied heavily on caste equations and polarization of voters. Its core vote bank remained OBC and Muslims. Even in coming election, Mulayam Singh Yadav is still invoking firing incidents on Kar Sewaks in 1990 at Ayodhya during his regime just to earn sympathy of Muslims. Little did the Yadav satrap realizes that nearly 24 years have passed after the demolition of Babri masjid in Ayodhya and a new generation has arrived which has not seen the incident but are now voters. Such issues hardly appeal to them but are counter productive in helping BJP to get an issue.
Akhilesh during his regime never used religious rhetoric to gain sympathy. He has banked upon the development plank – Agra-Lucknow Expressway, Dairy Projects, Laptop distribution, country's biggest pension scheme, Metro Train etc. His action prevented other groups from polarizing the scene and SP remains a force in coming 2017 election. Akhilesh Yadav has prevented BJP from exploiting the situation through his development plans, else the results of 2014 Lok Sabha are still afresh in mind where SP lost the battle on all fronts.
The next target is Shivpal Yadav, the uncle of Akhilesh Yadav who had nurtured him as Mulayam Singh Yadav was busy with his political innings. But time wheel took such a turn that both are reportedly pitted against each other. Akhilesh has proven himself with his administrative skills. Unlike Shivpal, Akhilesh has not developed a set of coterie who are more interested in contracts for financial gains. There are political workers, youth who just want themselves to be clicked with Akhilesh, technocrats and even well wishers from abroad. On the other hand, Shivpal Singh Yadav is identified with legislators who have vested interests. Rightly said by a SP leader, Shivpal has earned the support by virtue of being minister of important portfolios and the support will wane away once the ministry is gone. One can still recall, Shivpal spending time alone with few persons at party office when he was not in power prior to 2012. In the developments one cannot say that Shivpal Singh Yadav has been strengthened but as a matter of fact SP has been weakened.
Another figure Ramgopal Yadav, the so called think tank of SP is now fighting a battle to prove his strength. It is due to this reason he was forced to visit Etawah with a cavalcade of hundreds of vehicles to show off his strength. The workers of SP are hardly affected by his antics as he never was a crowd puller. Akhilesh Yadav however still remains the face of SP. Political pundits may be busy writing their opinion about the development in SP., but the actual outcome of this churning still remains a stronger Akhilesh who has now whole political field before him. He has the responsibility to take forward SP with him as SP will remain where he is irrespective of permutation and combinations in the Yadav family.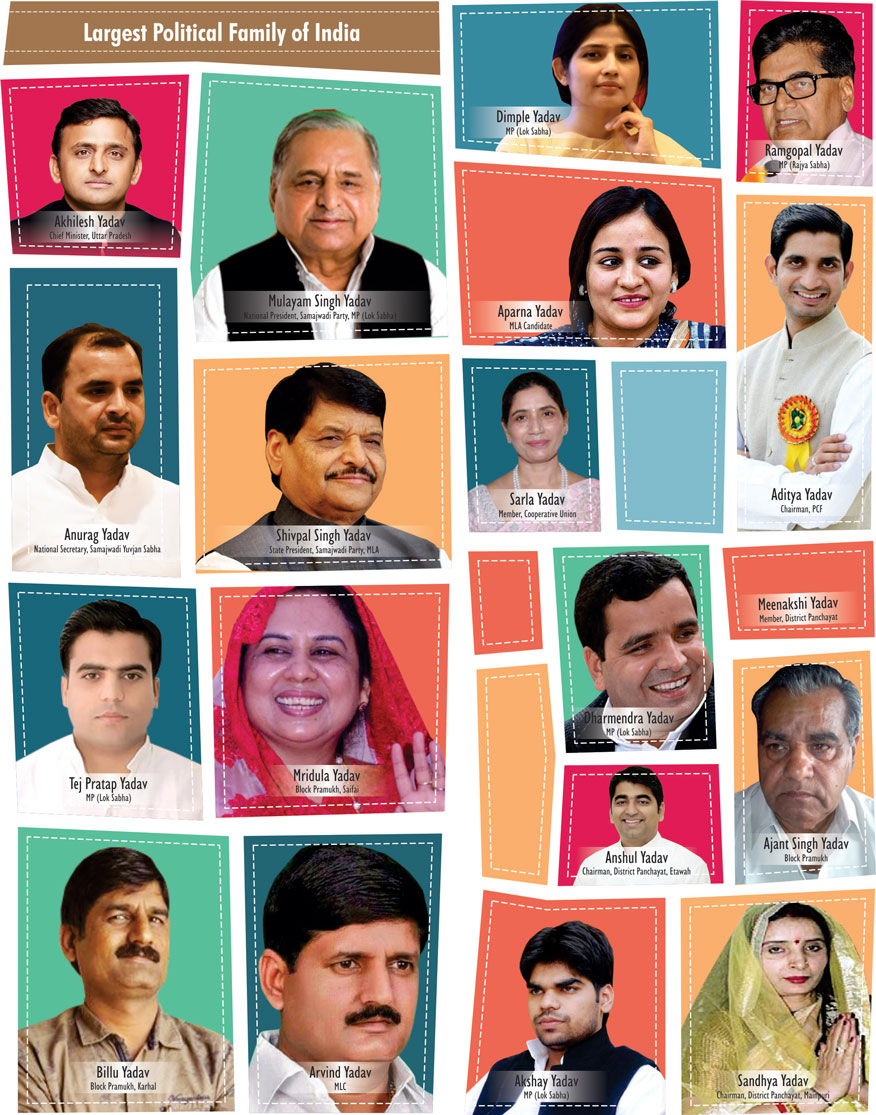 Chief Minister Akhilesh Yadav sacked two of his cabinet ministers mining minister Gayatri Prasad Prajapati and Panchayati Raj minister Raj Kishore Singh. A day later he removed his chief secretary Deepak Singhal. The action resulted in quick reaction within the party. Mulayam Singh Yadav removed Akhilesh from the state president post of SP and appointed his brother Shivpal Yadav. Akhilesh immediately followed and divested Shivpal from important portfolios like Public works Department, Irrigation and revenue. Supporters of Akhilesh and Shivpal indulged in sloganeering. Akhilesh's loyalists including three MLCs were expelled and hundreds of his supporters resigned. Meanwhile axe also fell on Ramgopal Yadav's nephew Arvind Yadav, MLC who was also expelled. Later Akhilesh restored the departments to Shivpal. With two new departments but withheld PWD. Akhilesh even reinducted Prajapati and nine others in the ministry to settle things and since then feud is raging with little sign of subsiding.
Mulayam Singh Yadav
Disciplined Father or A Greedy Politician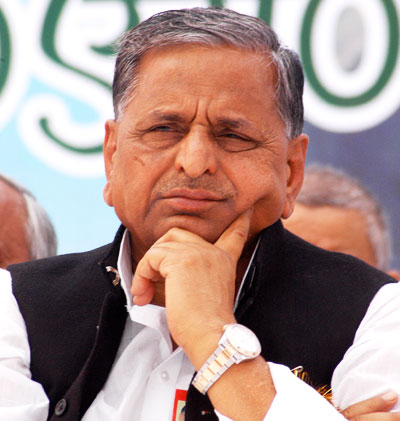 The enigmatic Mulayam Singh Yadav emerged in politics and so developed many anecdotes with his career. He is believed to have never lost any wrestling match, he is said to remember his workers by name, he never lets down his admirers which extend even in opposition and he always takes care of his supporters. But in his political journey, Mulayam Singh Yadav has also left many to climb next ladder. From Choudhary Charan Singh, Hemvatinandan Bahuguna, Chandrashekhar and even support of Congress – Mulayam met only to part ways at a later stage.
After 2012 when Akhilesh Yadav became CM of UP, Mulayam Singh Yadav, who is considered as Chanakya of UP politics, who uses Charkha Daon, a metaphor to topple his adversaries – often has put Akhilesh Yadav in tight spot, With his utterances, Akhilesh even remarked that it is hard to understand when he becomes national president of party and when he becomes father.
Till date, Mulayam Singh Yadav is basking in Babri Masjid issue and often raised the issue of Kar Sewaks while Akhilesh Yadav always wanted to contest the polls on development agenda which is his fiefdom. Even with Akhilesh Yadav sweeping the polls in 2012, Mulayam Singh Yadav did not leave a chance to remind the workers that people voted for him and he had appointed Akhilesh Yadav as CM. It is another matter that he never attained the feat of absolute majority in his career. Mulayam Singh Yadav even juxtaposed his ministerial colleagues in Akhilesh's cabinet and even officials who were during his regime leaving little scope for Akhilesh Yadav.
In 2015, Akhilesh Yadav was again at loss of words when Mulayam Singh Yadav came up with the dynamic idea of merging his party for reviving old Janata Party. Ramgopal Yadav termed it as signing the death warrant. Not losing heart, Mulayam Singh Yadav withdrew from grand alliance only to receive a humiliating defeat in Bihar polls. All this while Akhilesh Yadav had no answer to justify the decision.
Akhileshís loyalist always remained on Mulayam's radar and it is not the first time that they were expelled from the party as such decisions were taken earlier also thus destabilizing the youth team of Akhilesh. Once Akhilesh Yadav was so annoyed over expulsion of his loyalist Sunil Singh Sajan that he abstained from the inaugural function of Saifai Mahotsav. The hard earned image of keeping goons at bay by Akhilesh Yadav often received jolt from Mulayam Singh Yadav. The recent example being he giving nod to the merger of Qaumi Ekta Dal in SP which is the outfit of muscleman Mukhtar Ansari. The decision is in back burner but only when Akhilesh Yadav resented.
So the present upheaval in SP with Mulayam Singh Yadavís decisions is not the first time which occurred in SP and perhaps also not the last one.
Shivpal Singh Yadav
Man Who Follows His Own Rules
Shivpal Yadav, known for his organizational skills has special fondness for Akhilesh. It was he who took the young Tipu to a school in Etawah for admission where Tipu choose the name Akhilesh for himself. People even claim that Shivpal due to unawareness gave wrong date of birth to Akhilesh in school records and thus the leader has now two date of birth. While Mulayam Singh Yadav was busy carving space for himself in UP politics, it was Shivpal who took care of family and also stood with Mulayam Singh Yadav. It was on Mulayam's instance, he did not join any service. Mulayam gifted his seat of Jaswant Nagar in Etawah to Shivpal and he still represents it. Now well settled in politics, he too is nursing political ambition. His son Aditya Yadav too is knocking at the doors to join mainstream politics. Presently his whole family is holding post in cooperative bodies and Shivpal himself has been elected eighth time as Chairman of Cooperative Bank Etawah. With passage of time Shivpal Yadav now commands good support among the senior leaders of SP across the state. Due to lucrative departments, he also has a team of workers. With such support, he too is reportedly eyeing CM's post, a claim which he denies. Known for his plain speaking, Shivpal Yadav however is yet to carve a niche where he can be a serious contender for the post.
Akhilesh Yadav
A Lone Warrior Against Odds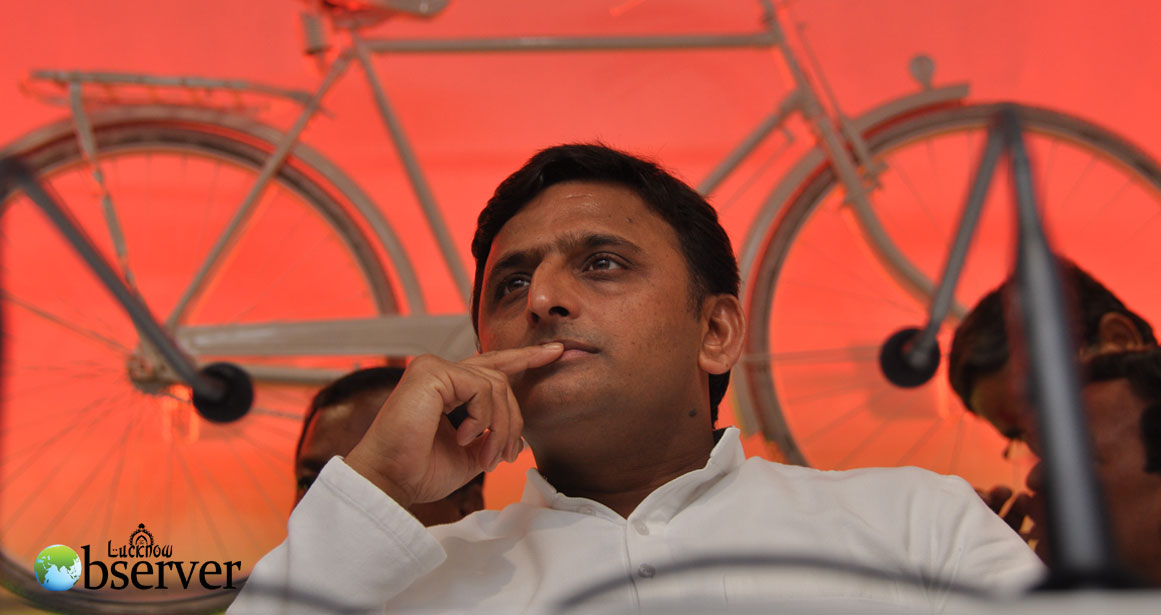 It is general perception about Akhilesh Yadav that he rarely loses his cool. During the upheaval in Samajwadi Party lived upto his image and did not reply. The only response was a smile which conveyed the things. But the cool chief minister finally broke his silence on September 14, two days after the incident. The remark summed up the situation – politics is not a game, it is a serious business and I mean it. Akhilesh even then had kept things straight. ìThere is no feud in the family, it is in the government. If any outsider will interfere, how will it function,î he said with clear message.
The developments which changed the destiny of UP's politics in which the party in power and was tipped to be re-elected was left in disarray. A senior minister remarked that SP has given the government on a platter to the opposition which was finding it hard to find some major issues against the state government.
In such hard times any knee jerk reaction would have taken situation from bad to worse but Akhilesh Yadav steered through it calmly. Not only did he returned the important portfolios to his uncle Shivpal and even re-inducted Gayatri Prajapati as minister but he also swallowed the decision of expulsion of hundreds of his supporters from the party.
Since his baptism in politics in 2000 as MP from Kannauj, Akhilesh understands that politics is an art of balancing and is to be dealt with patience. With his calculated steps, Akhilesh Yadav who cancelled his Kranti Rath tour scheduled from October 3, he has now brought the whole Samajwadi Party and even Yadav family looking towards him for bailing them out from the crisis. Very well establishing himself as the face of SP, now it is just a matter of time when he takes his next step as he understands that those pumping air in the inflated ego of few senior leaders will fizzle out soon.
Amidst this, Akhilesh reverted to his smile – Let us talk development; it is the need of the hour. We have to take the state forward.
Amar Singh
A Political Liability or A Corporate Strategy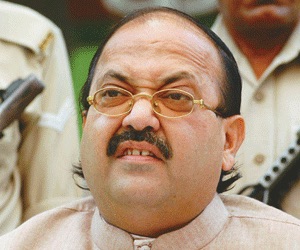 The year 2009 proved decisive for Samajwadi Party leader Amar Singh. Akhilesh Yadav's wife Dimple Yadav lost her first bypoll from Ferozabad Lok Sabha seat to Congress leader Raj Babbar. Insiders claimed that Dimple's loss sealed the fate for Amar Singh. Within few months Amar Singh's resignation from the party was accepted. It was fall from grace for a person who called the shots in the party. At whose instance stalwarts like Azam Khan, Raj Babbar had left the party and many were on the verge of leaving the party. After 14 years of Amar's association was over, Akhilesh with vocal support of Ramgopal Yadav justified the decision.
Amar Singh who takes pride in calling himself as Mulayamwadi is now branded as an outsider in the tussle within the Yadav family. Despite his closeness with Mulayam Singh Yadav, in 14 years he could not find place among the workers of Samajwadi Party who always blamed him for all debacles in the party. As a senior leader claimed that Amar Singh ushered a corporate culture within the party which had bollywood connections. The party lost connect with its grass root workers and Saifai parivar was in no way benefited from the blitz brought by Amar Singh. He may have acted as close aide of Mulayam Singh Yadav, but the workers and leaders were feeling cornered. Amar Singh's clout at one stage reached such a level that his arrival in Lucknow meant some important decision in SP.
Once he was out from the party, things were kept in such a manner that all Bollywood events in Saifai Mahotsav went as per routine thus removing his indispensable tag. But it is hard to separate an old friend and Mulayam once again brought back Amar Singh in the party after six years. His detractors are many but Akhilesh Yadav dropped enough signals that he did not like the developments. Amar Singh was sent to Rajya Sabha but Akhilesh maintained distance which forced Amar Singh to comment that he is not getting time from Chief Minister of the state. This time in his support came Shivpal Yadav who often shared morning tea with Amar Singh. The result axis was drawn.
In the differences, Amar Singh was also appointed General Secretary by Mulayam Singh that was more of a 'Maha-Mantri', a post which he held before his ouster from the party. The move may have emboldened Amar Singh but a wise politician, he has read the writing on the wall – to remain mellowed down as things are not going in favour. Akhilesh who was in nascent stage in politics during Amar Singh's advent is now a well established politician and face of the party. Firmly in saddle he is calling the shots as Chief Minister of the state and any action rubbing him in wrong manner may be adverse.
As of now, Amar Singh may be having party post and he may also be a Rajya Sabha member but the recent developments have brought him on tenterhooks. The old adage still applied – in case of family tussle, the outsider is the first one to face the brunt.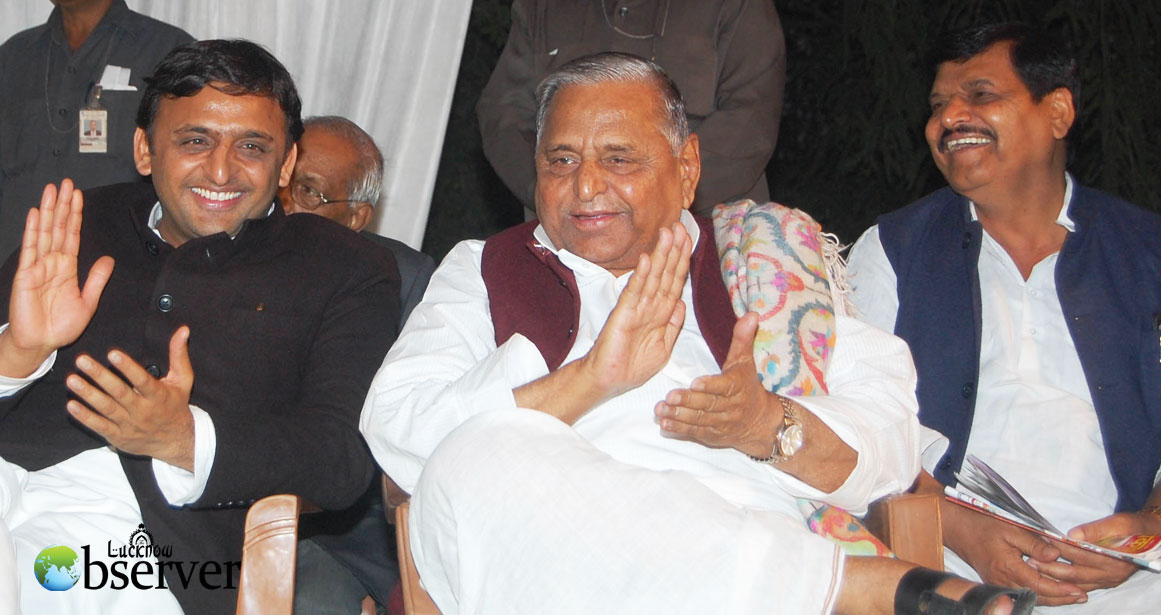 The stage is set now. SP is now at cross roads. The tussle can be over in Yadav parivar but politically the rift has widened. Workers are divided, leaders have to play to their galleries. Political dimensions are not like electric switch that their mode can be changed with one click. Everything is going as per history where family feud have occurred for power. It is now upto Mulayam Singh Yadav to change the history by keeping the flock together else the inevitable is going to happen.
And the story continues as it is too early to predict the upcoming UP elections and certainly the electoral mood would decide that what actually are the issues that really matters. Here's a young and dynamic politician who has delivered the promises and here's the decades old flavours of the politics that have been a trademark of the backwardness of the State. It is for the people to pick and choose the right vs wrong, development vs the political appeasement or between the future vs the past.
Faisal Fareed
The writer is a senior journalist and assistant registrar at AMU
(Published in The Lucknow Observer, Volume 3 Issue 31, Dated 05 October 2016)