Leading Voice in Contemporary Fiction
Siddhant Agarwal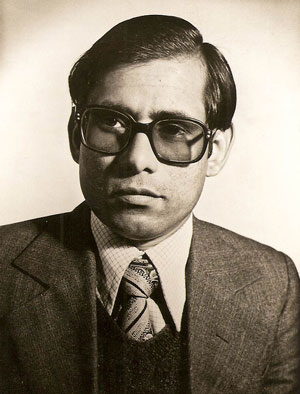 Acontemporary author whose writings depicted the sufferings, predicament and exhortation of the rural folk, peasants, laborers, the women and the oppressed of northern India, Shivmurti was born on March 11, 1950 in Kurang in Distt. Sultanpur. Due to his strong dislike for school and education, he used to stay away from his home for long periods of time. During his childhood, he used to stay at his maternal grandmother's home for long periods of time where he used to engage in aimless deviations of a child. But for the hard physical punishments rendered to him by his father, he slowly amended his ways and became a better child. Suddenly his childhood took a turn when his father went away and became a mendicant and he had to shoulder the responsibility of the house at the tender age of 13 years. As it was, the family was going through financial crises and life insecurity. He started earning his livelihood to make ends meet, got tailoring training from a tailor, prepared bidis, sold calendars, managed gatherings (Mazma), sold fake medicines for increasing sexual power; he even narrowly saved himself from joining the gang of a dacoit, his friend,Naresh. Soon after that, he decided to join the teaching services and later joined the railway services.
In 1975, he was selected by the Uttar Pradesh Public Service Commission as a Sales Tax Commissioner, which finally added stability to his life. He completed his service and retired as Additional Commissioner in 2010.
His inclination towards literature began to be awakened in him when he used to hear his father recite the Ram Charitmanas, Kavitawali, Vinay Patrika and Kabeer's couplets. Another thing that inclined him towards literature was the catchy dialogues and sensational stories that were used in the regular stage plays and nautankies, which were prevalent as a source of entertainment in those days.
His first story, Panfool, was published in a journal, Vatayana in 1968. His inclination towards creative writing was revived when he was awarded in Aparh Samvad, arranged by a famous new weekly, Dinman in 1976. His collection of stories, under the title Kesar Kasturi, was published in 1991 by Radhakrishnan Prakashan in Delhi. He went on to write two novels, Trishool and Tarpan, which were published in 1995 and 2004 respectively by Rajkamal Publications. His much acclaimed novel, Aakhiri Chhalang was published in 2008. His works have also been translated into various languages such as Bengali, Urdu, Oriya, and Kannada. His novel Trishool was translated in Urdu and Punjabi, Aakhiri Chhalang in Kannada and Tarpan was translated in German.
His works have also inspired major motion pictures and are continuously being made into movies. Films have been produced on his short stories Bharatnatyam, Kasaibada and Triyacharitra. Another motion picture on his novel Tarpan is under production. Apart from motion pictures, his stories Bharatnatyam, Kasaibada, Tarpan and Triyacharitra have been showcased as stage plays thousands of times.
Shivmurti has an excellent command over the language. He has the capability to create the entire scene before the reader's eyes through his writing style. His reflections, his imagery feel so alive that one can visit the villages he describes in his pages. It is a rare quality, to conjure images with words.
Shivmurti's reputation is not of a 'managing' writer. He doesn't confine himself, and that is why he has been lesser rewarded, or rather awarded. And it is for the same uninhibited, 'unmanaged' style that he has been comparatively less talked about. His readers' footfall, however, is very strong and they exclusively seek Shivmurti's works.
Shivmurti's biggest strength is that he never forgets his roots, instead, maintains a transparency while depicting them. Apart from fiction, his real life instances are also pretty clear, transparent and appealing. Despite being such reputed and highly revered person, he doesn't shy away from talking about the days of his youth. He is self confident enough not to hide anything from anyone.
Shivmurti attracts readers because he has the craft, not the craftiness; colors of the art but not the tackiness of those colours; ideas but not terrorising ideology. He knows how to show life but lacks the lameness of showbiz. He has the awareness of casteist unequality, but not the casteist poison. He talks, interacts with his readers, not merely preach. He has a huge treasure of folksongs, folklore and local legends.
Shivmurti has a great understanding of rural culture, society, families and political structure. He writes about the farmers, the oppressed, the harassed; not of the prosperous. His subject was not the harassment, but the harassed villagers and their challenges. His portrayal of exploitations and harassment of a Dalit woman in rural life, is a rare occurrence. He has witnessed himself, the different levels at which a woman is harassed and in his writings, the agony of a woman who has suffered at the hands of her own family, is also beautifully shown. In a generalised usage of words, the female characters in his story are spectacular and impressive. Particularly the protagonist of Tiriyacharittar is an unforgettable one.
The language and lexicon Shivmurti uses is very rich. Presently, no one has as detailed linguistic knowledge of rural/village life as him. His prose becomes so realistic because of this, that it soon turns into matter in the head of the readers.
The literary magazine Hans awarded the rst prize to his short story Tiriyacharrittar in 1988. He was also awarded the Anand Sagar Smriti, 'Kathakram' award in 2002. In the year 2010, he was honored with the award of Avadhbharti Samman, Srijan Samman in 2011 and Lamahi Samman in 2012. He was awarded the award of 'Pride of Lucknow' by the LUCKNOW Society in the Lucknow Literary Festival organized in February 2015.
His works have been focussed by many magazines for the special issues in his honor. Literary magazines Manch & Lamahi have published their January-March 2010 issues and October-December 2012 issues respectively, as special issues dedicated to the literary work of Shivmurti. A part of literary magazine Naya Jnanodaya, in its January 2008 issue and Samawartan, in September 2013 were dedicated special focus on the literary work and exclusive interviews of Shivmurti.
Shivmurti's writing is unique. It won't be appropriate to place him in the leagues of Premchand and Renu, for he is in a league of his own. Brilliant writers are praised amongst the readers and critics alike, and Shivmurti is not an exception. Through his writings he has earned a respectable place in history, and loads of appreciation as well. He is a writer who writes good, and writes optimistically.
Writer is an avid reader. Writing short stories and debating are his interests.
(Published in The Lucknow Observer, Volume 2 Issue 16, Dated 05 July 2015)