A Sparkling Smile Assuring Well-being
A cherubic effervescent smile greets you at Malhaur Railway station when you ask this 22-year girl if she is the one all over news and Internet being the first Indian woman Gateman. Dressed in a pious Hijab at work, Mirza Salma Beg smiles and agrees. She comes across as young lady of innocent grit and purpose. Having been in lime light of media for a month and still not sinking in her celebrity like status, she kindly asked us to take permission before we start a chatting session.
After taking due permission by Mr P. K. Saxena, S.S at Malhaur Railway station in Gomti Nagar, we tried asking a few question to the young employee at work. But she cordially asked to wait till she is done with her work. Enough time to talk to her colleagues and seniors about this celebrity amongst them.
Many of her seniors have worked with is father Mr. Mirza Salim Beg, before he took retirement from active service in 2010 due to failing health conditions. Many recall Salma being born and brought up in front of their eyes. Father like and supporting emotion gleam through eyes while talking about Salma Beg. They talked about the initial apprehensions and problems faced when Salma decided to take up this job rarely taken up by woman. Interestingly seniors said they are sure there in no woman posted as Gateman in Lucknow Division of Northern Railway but were not sure if she is the only one in India.
While Salma was at work we checked her work area and conditions. Malhaur station happens to be the busiest amongst sub stations with around 8 railway crossing under its administration. These gates normally sees passing of approximately 130+ trains in a single day. Surprisingly apart from one of the posts, which has 8-hour shift, all other gates demand 12 hour working.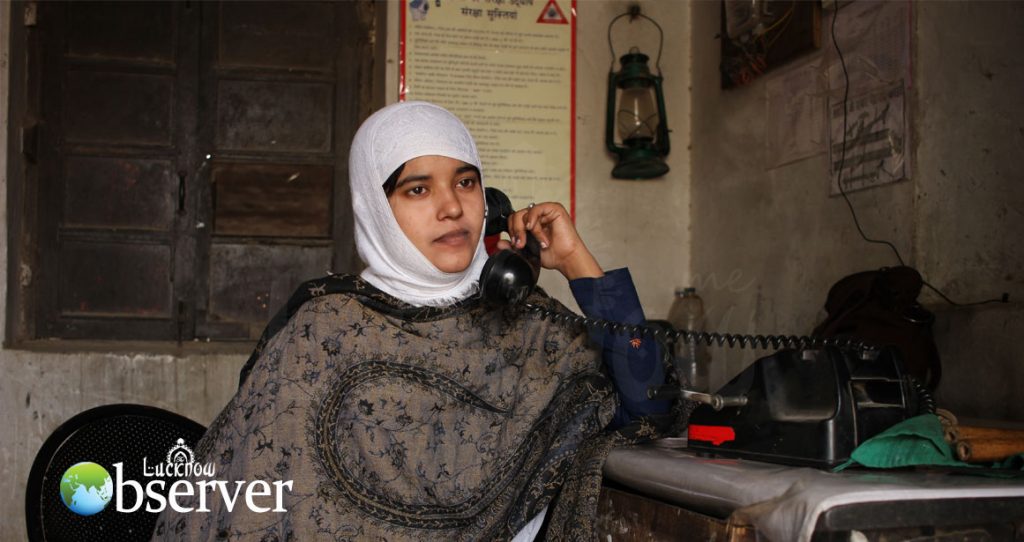 There were certain things that our team found conspiuous at these posts but kept the questions for Salma and her seniors to answer.
Salma, after duly finishing her work and taking permission from senior sat for small chat with us. She told that for last few weeks various media houses are showing sudden interest in her work, which she took up in time of need to support her family. After her father left active service and mother had a terrible paralytic attack, it was on her shoulder to don the responsibility of bread earner. She applied for the post her father held, as it is provision with Indian Railways. Railways authority accepted the request and she joined railways in 2003.
Suspicion, doubts, loose talk and demotivating gossip were galore. Relatives, neighbors, acquaint and all have their opinion on Salma taking up the job. It was firm family stand and faith in her ability that helped her holds ground and take the job forward with elan.
Her day start early as she reaches quarter to 8 in morning, takes charge from fellow co-worker on night duty and then starts her daily work. Every hour a telephone rings informing a train is about to arrive. She makes note of the schedule and closes down the gate on time, giving a green signal to the train to reach the crossing. Once the train passes the crossing she now has to unlock the gate and again make entry in official records. This simple task is of utmost importance and needs complete attention no matter how simple it sounds. Safety of 1000 people in every train between stations depends on this simple yet tedious activity.
Mirza Salma Beg looks at home with the responsibility conferred to her. Salma holds baccalaureate in Arts and is all open to taking up a masters course but the 12-hour work schedule does not allow her. Although she is happy with her work and not complaining but still wishes if it was a normal 8-hour work schedule like other Government jobs she would get those 3-4 extra hours to go for Masters Course. By Standing seniors second her opinion with a smile as well.
When asked about her sibling, we were told she has a younger sister doing her graduation. What this humble girl didn't tell that her younger sister got married while she opted for this tedious work. Appreciation for her selfless devotion to her family and work was reverberating in her colleague's words.
When asked about the challenges she faces at work, she was gracious in accepting what's a job without few challenges.
But while inspecting crossing gates under Malhaur station and work conditions we saw something amiss and asked her that few post does not have electricity, no water connection and no toilet. How is it possible for any body leave alone a woman to do a 12-hour duty without water and toilet? How does a gateman pass a signal to next gate without electricity? Only one gate has 8-hour duty and other 12 hours schedule. The anomaly was out from rulebooks.
As a dutiful junior employee she dodged the question for seniors but indicated that she either carries water from home or carry from station to post and constant support from colleagues and administration does not causes hindrance in carrying out her daily duties. On asking the administration on duty, they said suggestions and information has been sent to head office to look into this matter of proper working conditions but no action has been seen. Rest, at their level, they make sure until the due action is taken all things are adjusted in accordance and no employee, man or woman has an issue carrying out duties.
On one hand its so fascinating to see a young girl carrying out role of a Gateman so meticulously and also alluring to see the kind of support, faith and belief her co-workers provide, on the other hand its alarming to find with not even basic infrastructure facility provided at such busy crossings, still employees are working, handing situation like family members for utmost safety of railway passengers.
Saumitra Shankar
Writer is a marketing professional
(Published in The Lucknow Observer, Volume 2 Issue 21, Dated 05 December 2015)