Urdu Shairi Mein Geeta – Ruhani Sangam
Anekta Mein Jaha'n Ekta Mili Anwar,
Hum Us Dayar Ko Hindustan Kehne Lage
Anwar Jalalpuri, world famous for his nizamat of mushairas, as master of ceremony at countless poetic soirees is also a renowned Urdu poet. He has done a commendable job of translating all 701 shlokas of the Bhagvad Geeta into Urdu poetry. Driven by an urge to promote communal and ethnic harmony, this initiative is outstanding!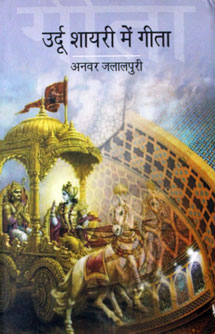 The book is available in both Hindi and Urdu. Anwar feels that the Geeta, Upanishads and Quran are the heritage of all human beings and they must be preserved at all cost.
"There is an urgent need to spread the message of Geeta amongst human beings, irrespective of their religion,"says Anwar.
Chief minister Akhilesh Yadav applauded the unique task at a time when the recently concluded elections was used by some as an occasion to instigate social heat.
Morari Bapu, popular Hindi kathakaar and chief guest at the launch of the book talked in the same breath of Gangajal and Aab-e Zam Zam, both sacred waters. He said that Anwar Saheb blends the spirit of both traditions in his translation of Sanskrit in the Geeta into Urdu poetry.
Talking of the book's special message the mayor Dinesh Sharma compared Anwar Jalalpuri to Tulsidas who wrote the Ram Charit Manas in the more popular Awadhi language.
Says Atif Hanif, marketing specialist, "This book is the best example of our composite culture known as the Ganga- Jamuni Tehzeeb in Lucknow. We are proud of this monumental work done in Lucknow".
Nirmal Darshan, Hindu/Urdu poet who anchored the literary event said that the book is a path to attaining ruhani sangam, or unity of spirit. Manzar Bhopali and Mithilesh Lucknawi recited poetry from the book.
Other prominent guests at the book launch included Arun Kumari Kori, Ahmed Hasan, Gopal Das Neeraj, Malikzada Manzoor Ahmed, Sharib Rudaulvi, Maulana Kalbe Sadiq, Ramesh Dixit and Uday Pratap Singh. Anwar Jalalpuri : True Representative of Ganga – Jamuni Tehzeeb
Anwar Jalalpuri is a linguist like no other. He can best be described as an English Literature lecture by profession, Urdu poet by heart and connoisseur of Hindi language!Born in Jalalpur, a town in eastern Uttar Pradesh famous for Urdu poets, it is only natural that he grew up to write poetry. Educated in Jalalpur and Azamgarh, he realised his literary potential as a student at Aligarh Muslim University. He returned to Jalalpur to open a junior high school named after Mirza Ghalib and which is now an inter college. Lucknow is the host city of his intellectual maturity.
Anwar Saheb is well known around the world for his nizamat and steals the heart of all those who love poetry at poetry sessions. He has achieved many milestones to emerge as a living legend of literature. He has translated the 30th para of the Quran. He has translated into Urdu Rabindranath Tagore's Geetanjali.
Roshnai ke safeer, Khare paniyo ka silsila, Khushbu ki rishtedari, Jaagti ankhein are his collection of Urdu and Hindi poetry and he has also written four books on Natiya Shairi.
Apni dharti apne log is a collection of his work on prose. He contributes regularly to newspapers and magazines.
The dialogues and songs from the serial Akbar The Great on television were penned by him. Anwar Saheb also appears in a cameo role in the film Dedh Ishqia.
He was Chairman of the Uttar Pradesh Madrasa Board and member of Uttar Pradesh Haj Committee, Uttar Pradesh Urdu Academy, Urdu – Arabic – Persian University Committee but his politeness, humanity and humility remains as legendary as his contribution to literature.
Hum Kashi Kaba Ke Rahi Hum Kia Jaanein Jhagda Baba,
Apne Dil Mein Sabki Ulfat Apna Sab Se Rishta Baba,
Har Insaan Mein Noor-e Khuda Hai Sari Kitabo Mein Likha Hai,
Ved Ho'n Ya Injeel-e Muqaddas Ho Quran Ki Geeta Baba.