Deepti Naval who has played in nearly a dozen films with the late Farooq Shaikh including the 1981 charmer Chashme Baddoor told The Lucknow Observer that yes, it is true that the actor was enchanted with Lucknow.
Here senior journalist Chitra Subramanium takes readers back to nearly three decades ago when she first met Farooq in Lucknow and who introduced her to malai paan.
Good heavens. What on earth is malai paan? I know Calcutta with geeli supari and maghai,but paan with cream? I am going to fall off the cycle rickshaw, my sari's pallu is going to get stuck in the wheels and I will be strangled to death. I will lose my job. Worse, I will be a laughing stock. Maybe I should study law or economics. Journalism is a bad idea. Concentrate, concentrate, take notes. Of course the ball pen doesn't work, my handbag is too big and contains everything except a pen that works. Tape recorder left behind in the hotel room.
1980. Hazratganj, Lucknow as bright, flashy and noisy in the middle of the night as Ginza in Tokyo. My cycle-rickshaw host is Farooq Shaikh. I was a trainee reporter with India Today.This was my first out-station assignment. I was covering the shooting of Umrao Jaan Ada. Homework was done about Mirza Hadi Ruswa's 1905 Urdu novel about a courtesan in Lucknow. I was a student of Urdu and Hindustani Classical music and the rest I thought would be learning on the job.
Why I am writing this piece is perhaps as interesting as the piece, but more of that in a bit. The film's crew and actors were staying at the Clarks Avadh. That's where I stayed with our staff photographer. Left messages for Muzaffar Ali the film's director, Farooq Shaikh, Rekha and Naseeruddin Shah requesting interviews. Showed up at a shoot- site outside Lucknow unsure what I was looking for. No interviews.
That evening I got a call from the reception. It was Farooq Shaikh suggesting we meet for the interview. Sure, I said and was down in 10 minutes thinking we'd sit in the lobby and talk about the film. Little did I realize that what he had in mind was a cycle- rickshaw ride through large and narrow streets of the city, stopping at Choudhury Sweet House for malaai paan and laal peda, elsewhere for rasgulla and more. Throughout the evening he spoke about the film, it's storyline, the life of a courtesan in Lucknow, the tragedy, the struggle, the beauty, the drama, the music, the poetry. Suddenly he would switch to contemporary politics asking me what I thought of this or that leader or situation.
As I struggled to find a pen, Farooq Shaikh sat in the rickshaw as if sitting on a grand and regal horse-drawn carriage. Or in a Durbar. That's it. He had that kind of a presence, a humility, a curiosity and an erudition. He filled up the space, all the space without threatening or disturbing anything around him.
He invited me to the sets of the film the following morning where I met Muzaffar Ali, Rekha, Naseeruddin Shah and Shaukat Kaifi. I spent the day at the haveli and was allowed to sit-in in the background as the song "In Ankhon ki Masti Ke" was picturised. The beautiful Rekha, the regal Farooq – it seems like yesterday.
The gentleman that he was, Farooq Shaikh attended my wedding reception in Mumbai with his family on a day when the city was flooded and there were no cars or taxis on the streets. We stayed in touch for a few years. In September 2013 while having lunch with my children and some friends in Khan Market, New Delhi, I ran into Farooq Shaikh. Nothing had changed. Impeccable clothes, impeccable manners, that boyish naughtiness, that deep erudition all worn lightly with a smile that was his. We exchanged phone numbers and I was planning to re-connect in December 2013. God had other plans.
In January 2014 I met Sunil Sethi, a former colleague at India Today and we got started on journalism and what I was doing.
"Mehru is doing the same thing – you must absolutely connect with her now", said Sunil in a way that only he can. Mehru Jaffer and I had joined India Today at around the same time. Mehru had moved to Vienna, I lived in Geneva and we had spoken occasionally on the phone.
I rang Mehru in Lucknow. "What a coincidence, Chitra. I have been thinking about you. We are paying a tribute to Farooq Shaikh in our magazine and do you remember that rickshaw ride he took you on through the streets of Lucknow – please write about it."
What is the probability that three friends, all journalists, connect after 27 years to pay a tribute to Farooq Shaikh?
Karma
Chitra Subramaniam is an Indian journalist most known for her Bofors investigations which led to the electoral defeat of the Rajiv Gandhi government in 1989. She was a UN correspondent from Geneva, covered the GATT-WTO talks for ten years, wrote on disarmament, the EU and also reported on the Bosnian war from Sarajevo. In 1997, she was invited by former Norwegian Prime Minister Dr. Gro Harlem Brundtland to be part of her campaign team to head the World Health Organization (WHO). Subramaniam led the policy analysis, media and communications work for global negotiations of tobacco control across 198 countries. Later, as Founder Director of CSD consulting, Switzerland, Subramaniam worked with CEOs of Indian and European Fortune 500 companies advising them on policy, market share and media relations. Now, together with Dhanya Rajendran (formerly head of south India for Times Now), she is launching a news-based aggregator out of Bangalore.
Farooq Shaikh loved Lucknow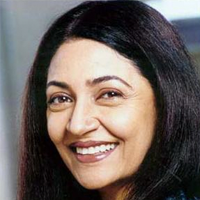 Deepti Naval tells The Lucknow Observer that she was preparing a stage performance with Farooq Shaikh where the two lovers of poetry planned to read out the journey of Urdu poetry just before the actor passed away so suddenly.
In her own words Deepti continues: Farooq Shaikh was very fond of Urdu poetry. He liked to return to Lucknow again and again to listen to the way people talk in the city. On more occasion than one he had raved to me about the zaika, or food he enjoyed in Lucknow. He also talked a little sadly about the decline of the legendary tehzeeb, or manners in the city. He seemed desperate to hold on to the old world charm of Lucknow.
He had pulled out Urdu poetry from over the decades for the stage show we had planned. He introduced me to Urdu poetry written by women.
Ever since I first met him more than three decades ago we have shared favourite verses with each other. We would both pen down poetry we had liked on anything even on napkins and tissue paper and pass that to each other. While making films together, the unit people thought that we were always exchanging love notes. But it was only poetry.
I asked him why he liked to dress in a white, self embroidered kurta and a pair of white pyjamas most, and he had smiled saying that friends in Lucknow had generously gift these clothes to him and he loved to wear them.
I know Lucknow a little. I had three scenes in Shyam Benegal's Junoon from 1978. I stayed at the Clarks Avadh in Lucknow and at Malihabad where the film was shot for three months as the director wanted me to learn from watching other actors perform. I remember the mango groves in Malihabad where the song sawan ki aayi bahar was filmed.
I remember the monuments I saw in Lucknow and now I dream of visiting Lucknow again in memory of Farooq Shaikh. I would like to recite my own poetry in Hindustani and in English before an audience in Lucknow.
Apart from having performed in over 50 films, Deepti is the author of The Mad Tibetan: Stories from Then and Now published in 2011, Black Wind and Other Poems published in 1983 and Lamha-Lamha, a selection of poems in Hindustani published in 1983.