Bismil ka sandes hai
The Unsung Heroes of Kakori Case
On 9th August, 1925, the revolutionaries, led by Ram Prasad Bismil looted, the British treasure from a train at Kakori near Lucknow. The British used all their might to arrest them and a case was filed against them. This case was dealt with in 2 parts, the 'Kakori Shadyantra Case' and the 'Poorak Case'. The case was heard from December 1925 to August 1927 in the Roshan-ud-Daulah courts and after that in the erstwhile Rink Theatre (where the present GPO is located).
The peculiar thing about this case was that the 'actions' that were not even remotely related to the Kakori incident and took place before this under the leadership of Bismil were also included, such as the incident in Bumrauli village in the Pilibhit district on 25th December 1924, or the incident that took place in the Bichpuri village in the same district on 9th March 1925 and even the incident on 24th May 1925 in Dwarkapur village in Pratapgarh district.
We are presenting a list here which will throw light on the part played by the revolutionaries who were punished by the British.
Rajendra Nath Lahiri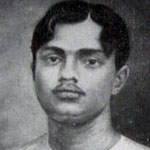 Rajendra Nath Lahiri was born in June 1901 in Bharga village in the Pabna District in Bengal. The Lahiri family moved to Benares in 1909 and his education and upbringing took place there.
Rajendra Nath Lahiri passed the entrance examination for the Benares Hindu University and was admitted and educated in Central Hindu College. He developed a love for History and Economics and thus, obtained a B.A. in these subjects and studied History in his M.A. He had a good command over European and Indian history.
When he came into contact with Shri Shachindra Nath Sanyal and became a member of the secret revolutionary society, Hindustan Republican Association. He was an active member of the local committee.
Lahiri was an integral part of the 'Kakori Train Action'. He was arrested in Calcutta for 'Dakshineshwar Bomb Factory Kand' and was sentenced to 10 years imprisonment for that.
When the 'Kakori Shadyantra Case' was filed, he was also made an accused and brought to Lucknow and was sentenced to death.
When the appeal was filed in the Chief Court of Awadh, the Judges found him guilty on the second place, just after Pandit Ram Prasad Bismil and his death sentence was confirmed.
After that, it was decided that he would be hanged in Gonda Jail on 19th December, 1927.
Shachindra Nath Bakshi
Shachindra Nath Bakshi was born on 25th December 1900 in Benares to Shri Kalidas Bakshi. When he passed his Matriculation examination from Anglo Bengali High School in Kashi in 1921, he left his studies to join the revolutionary activities. But as opposed to the Non Cooperation Movement, he stood firm on his revolutionary line of thought. The police caught a whiff of his thoughts and was shadowed day and night.
He met the revolutionary Jogesh Chandra Chatterjee in a Special Session of the Congress in Delhi. Due to the similarity in their mindset, they grew close, Bakshiji became a complete part of the Hindustan Republican Association. After being active in Benares, he was sent to Jhansi to organize the group there. He was extremely successful in his activities. There he was assisted by Dr. Bhagwan Das Mahaur and Sadashiv Rao Malkapurkar, revolutionaries famous for the Bhusawal Bomb Case. Before fleeing in September 1925, he introduced revolutionary Chandrashekhar Azad to the revolutionaries in Jhansi.
After the Kakori Train Action, he fled and was arrested in January 1927 from Bhagalpur (Bihar) and brought to Lucknow, where he was sentenced to Life imprisonment in the ìPoorak Kakori Shadyantra Caseî. He passed away on 23rd November 1984 in Sultanpur (U.P.).
Mukundilal 'bharatveerí
Mukundilal 'Bharatveer' was born in an affluent Vaishya family in 1891 in Auraiya Tehsil in the Etawah district. In those times, police used to harass people for no reason and Mukundilal could not stand this. As a result, he had regular skirmishes with the police and even the police tried to frame him in some offence.
Mukundilalji came into contact with a revolutionary Gendalal Dixit, who was a teacher in a school in Auraiya, and took part in many actions with him. He was arrested in the famous 'Mainpuri Conspiracy Case' and was sentenced to seven years in prison.
He faced heavy torture in the prison and was released in 1923. He came into contact with revolutionary Shachindra Nath Bakshi and became a part of the H.R.A. and was also a part of the Kakori Train Action. He was also awarded the life sentence in the Kakori Conspiracy Case. He was released from prison only after independence, but had a hard life in! independent India. He left his mortal shell in October 1972 in Kanpur after a long illness.
Thakur Roshan Singh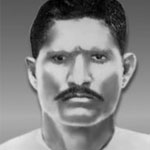 Thakur Roshan Singh was a native of Navada village in Shahjehanpur. He was born in 1890 to Thakur Jangi Singh and Kaushalya Devi. As his name, he had bravery, courage and strength befitting a Thakur by birth.
When the Non-Cooperation Movement started, he worked extensively in Shahjehanpur and Bareilly districts to spread and popularize the Non-Cooperation Movement. During this period, firings took place in Bareilly and Thakur Roshan Singh was arrested and sentenced to two years of imprisonment.
After being released from prison, he came into contact with Bismil and joined the revolutionary party HRA. Later, he had an active role in the 'action' in Bumrauli village in Pilibhit district, under Bismil's leadership. Amongst all the people caught for the 'Kakori Shadyantra Case', he was the one with the most physical strength. He was sentenced to death for his part in the case.
As per the plan, he was to be hanged on 19th December 1927 in Malaka Prison, Allahabad.
Ram Krishna Khatri
Ram Krishna Khatri was born on 3rd March 1902 in Buldana in Maharashtra to Shri Shivlal Chopra and Shrimati Krishna Bai. He obtained his primary education from Chikhli and Chandrapur Nagar.
Shri Khatri had a nationalist streak in him since his childhood and it began to develop early. Inspired by the speeches of Lokmanya Tilak in Chikhli in 1917 and Gandhiji in Wardha in 1920, he joined active politics. He took part in the 1920 sessions of the Congress at Calcutta and Nagpur in 1920.
In August 1921, he let go of the worldly possessions and became a monk with the name of 'Swami Govind Prakash'. In 1923, he came into contact with Chandrashekhar Azad and became a member of the HRA. After that, he played a prominent part in the Bichpuri (Pilibhit) and Dwarkapur (Pratapgarh) actions, under the leadership of Bismil.
After the Kakori Train Action, Khatriji was arrested from Poona and brought to Lucknow on 18th October 1925. He was sentenced to 10 years of rigorous imprisonment for his part in the Kakori Conspiracy Case. He was released from Lucknow Central Jail in August 1935.
He became a part of 'Congress Socialist Party' founded by Acharya Narendra Dev in 1938. After that, he became a member of the Indian Executive and the General Secretary of the U.P. regional branch of the 'Forward Block' founded by Shri Subhash Chandra Bose in 1939. He joined the Congress in 1942 and retired from active politics in 1969 and dedicated his life to organize memorials for the martyrs of the freedom struggle. With this objective, he founded a NGO named ìShaheed Smriti Samaroh Samitiî. His autobiography, ìShaheedon ki chhaya meinî was released by then Prime Minister, Shrimati Indira Gandhi in 1983. Khatriji breathed his last on 18th October 1996 in Lucknow at the ripe age of 96.
Shachindra Nath Sanyal
There are a few families in India, in which an entire generation had actively participated in the freedom struggle and faced the brutalities of the British. One of these families is the Sanyal family of Benares. Four revolutionaries, Shachindra Nath, Ravindra Nath, Jitendra Nath, and Bhupendra Nath have notable contributions to the freedom struggle.
Eldest among the brothers, Shachindra Nath is remembered as the ìBhishma Pitamahî of the revolutionaries. He was born to Shri Harinath Sanyal on 3rd June 1893 in Madanpura in Benares. An accountant by profession, Shri Harinath Sanyal had nationalist viewpoints.
When he was 14 years old, Shachindra Nath was a member of a famous revolutionary society in Bengal named, Anusheelan Samiti. In 1915, he was arrested, convicted in the Benares Conspiracy Case and sentenced for life imprisonment in Kalapani and was sent to Andaman. He was released in 1920 under clemency.
After his release from prison, he founded a new revolutionary party called the Hindustan Republican Association. H.R.A. did many revolutionary activities. In 1925, Shachin Da and his younger brother, Bhupendra Nath were arrested and sentenced for rigorous imprisonment in the 'Kakori Conspiracy Case'. In this also, Shachin da was sentenced to life imprisonment. After spending 12 years in prison, he was released in 1937 when the first Congress Council of Ministers was made.
In 1940, Shachin Da was kept under house arrest in Deoli under the Defence of India Act. Being afflicted by Tuberculosis here, he was released from the house arrest for treatment but the disease continued to grow and the revolutionary breathed his last on 6th February 1943 in Gorakhpur.
Not only a revolutionary, Shachin Da was a great thinker and writer. His book Bandi Jeevan is an important document in the history of revolutionaries.
Jogesh Chandra Chatterjee
Jogesh Chandra Chatterjee a.k.a. "Rai Mahashay" was born in 1895 in Gavadiya village in Dhaka district, in an affluent family. Jogesh Babu was brought up and educated in Kumilla. He joined the revolution right from his student life. He was the Chief Organizer in the Anusheelan Samiti. When the Yugaantar and the Anusheelan Samiti were merged to form the Hindustan Republican Association, he played an active part in the formation. In the 'Kakori Conspiracy Case', he was initially awarded 10 years prison sentence, which was changed to life imprisonment when the appeal was heard in the Chief Court.
He was released in 1937 when the First Congress Council of Ministers was created. He was again arrested in Delhi in 1940 for breaking the curfew. After being released this time, he founded the Krantikari Samajwadi Party. After the Independence, he was a Rajya Sabha member from Congress for many years. He passed away on 22nd April 1969.
Govind Charan Kar
Govind Charan Kar (Kar Da) a.k.a. 'Shri D.N. Chowdhury' was a resident of Dhaka in East Bengal. In the age of 16-17 years, he left his studies and joined the Revolutionary Movement. In 1916, he was cornered by the police in Pabna. He felt that resistance was better than surrendering and gunfire ensued. Riddled with bullets, he was caught in a near-dead state. He was treated in captivity and as soon as he recovered, a case was filed against him as the 'Pabna Shooting Case'. He was sentenced toa 10 years in Kalapani and was released in 1920 due to ill-health.
In 1924-25, after the arrests of Jogesh Chandra Chatterjee and Shachindra Nath Sanyal, Kar Da was sent from Bengal to United Provinces to continue the revolutionary activities. He used to live in Rameshwar Hotel near Aminabad Park in Lucknow, under the name of D.N. Chowdhury- Insurance Agent. He was also arrested in the Kakori Case and sentenced to 10 years imprisonment, which was increased to Life Imprisonment after the appeal in the Chief Court. He passed away a few years (before/after) independence was achieved.
While the case was heard, the accused in the 'Kakori Case' used to entertain themselves in prison by singing revolutionary songs, one of which is mentioned here:
Vatan ki aabroo ka paas
dekhen kaun karta hai,

suna hai aajkal maktal me
hamara imtehaan hoga.

Juda mat ho mere pehlu se
ae dard-e-vatan hargiz,

Na jaane baad murdan main
kahan aur tu kahan hoga.
Siddhant Agarwal
Writer is an avid reader. Writing short stories and debating are his interests.
(Published in The Lucknow Observer, Volume 2 Issue 17, Dated 05 August 2015)