Azad's Pledge!
Jawed Naqvi revisits Abul Kalam Azad's India wins Freedom
The lady at the adjoining table of the club restaurant gazed steadily at Maulana Azad's autobiography I was scouring, as she licked the remains of the egg yolk from the fork before picking out the last fatty strips of meat that come with a standard English breakfast. Then she was on the phone with a friend, fixing her next agenda for the day. Where could she find a sumptuous lunch?
I was leaving when she asked if the book was about the Taliban. The cover showed the author with a beard and a 'Muslim cap', a far cry from any accepted notion of a Taliban visage. I said it was India Wins Freedom, written by Maulana Abul Kalam Azad in the form of a dictation to Humayun Kabir, the trusted aide of the leading freedom fighter who became India's first education minister.
The edition I was reading included sensitive pages the maulana wished to be published only 30 years after his death, which occurred in 1958. The narrative chiefly straddled 1935 to 1948, including a prolonged stint by Azad as the Congress party's president.
Why was I reading an old book that was in the modern history syllabus at Jawaharlal Nehru University years ago? Put it to Najma Heptullah's induction as minority affairs minister in the Modi cabinet. A grand-niece of the maulana, she flaunted Azad as her ideological lodestar. Rajiv Gandhi pampered her and made her a well- regarded deputy chairperson of the Rajya Sabha. Outside the house she became known for her funny one-liners but also for a diametrically opposite talent — a pronounced proximity to the puritan Saudis.
It was Heptullah's transition from a Maulana Azad-loving Congress party to the Sardar Patel-hugging Bharatiya Janata Party that prompts me to quote from the book by her grand-uncle. It should be of use to her as to the lady at the breakfast table. Patel was the home minister and as such the administration of Delhi was his responsibility. Partition-related riots were in full swing in Delhi. This is how Azad saw it.
"As the list of murders and arson grew longer, Gandhiji sent for Patel and asked him what he was doing to stop the carnage. Sardar Patel tried to assure him by saying that the reports, which Gandhiji was receiving, were grossly exaggerated. In fact, he went to the extent of saying that Muslims had no cause for complaint or fear." Ms Heptullah will note the description is not different from the reported discussion a former prime minister had with a former chief minister of Gujarat following the events of 2002.
Azad continues: "I remember distinctly one occasion when the three of us were sitting with Gandhiji. Jawaharlal said with deep sorrow that he could not tolerate the situation in Delhi where Muslim citizens were being killed like cats and dogs. He felt humiliated that he was helpless and could not save them…. "
Everyone present was "completely taken aback" by Sardar Patel's reaction. "At a time when Muslims were being murdered in Delhi in open daylight, he calmly told Gandhiji that Jawaharlal's complaints were completely incomprehensible. There may have been some isolated incidents but the government was doing everything possible to protect the life of Muslims and nothing more could be done. In fact, he expressed his dissatisfaction that Jawaharlal as the prime minister should express disapproval of what his Government was doing."
We can see at least a glimpse of why the new prime minister of India is a Patel- worshipper and a Nehru-baiter.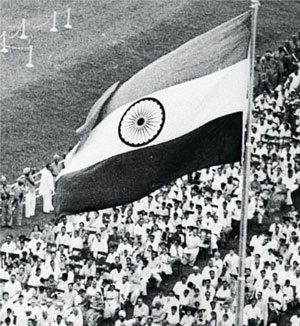 Azad writes on in his stark narrative, which all but declares Patel, not surprisingly, as an anti-Muslim politician. To explain the attacks on Muslims, Patel displayed outrageous tactics that every right-wing ruler in India loves to embrace. Patel put out a theory that deadly weapons had been recovered from the Muslim quarters of the city.
"His insinuation was that the Muslims of Delhi had collected arms to attack the Hindus and the Sikhs, and if the Hindus and the Sikhs had not taken the first offensive, the Muslims would have destroyed them." Sardar Patel displayed the arms thus gathered in an antechamber of the cabinet committee room. Lord Mountbatten was there.
"On our arrival we found on the table dozens of kitchen knives that were rusted, pocket knives and pen knives with or without handles and iron spikes, which had been recovered from the fences of old houses, and some cast iron water pipes. According to Sardar Patel these were weapons which the Muslims of Delhi had collected to exterminate the Hindus and the Sikhs."
Lord Mountbatten "took up one or two knives and said with a smile that those who had collected these materials seemed to have a wonderful idea of military tactics if they thought that the city of Delhi could be captured with them". How does Heptullah regard Azad's dim view of Patel, mascot of the Modi government? She may have to ponder other changes, even positive ones, which the new government hopes to usher.
During the years when I met her more regularly as a journalist, Ms Heptullah was unfortunately on the wrong of the Shahbano debate. The occasion found Congress party, led by Rajiv Gandhi, spearheading the parliament's quashing of Supreme Court's verdict, which dared to give a Muslim divorcee the right to financial allowance from her former husband, a right other Indian women enjoyed.
However, Ms Heptullah is now a member of the Bharatiya Janata Party, the right-wing Hindu group that at least has one good agenda, provided it is honestly implemented — ushering of a common civil code for all Indians, including Muslims. This could be her chance to redeem Azad's pledge to his people.
The writer is a Delhi based senior journalist of Lucknow origin