Asrar-ul Haq Majaz
Keats of Urdu Poetry
"Khoob Pehchaan Lo Asrar Hoon Mein,
Jins-e Ulfat Ka Talabgaar Hoon Mein"
Asrar-ul Haq Majaz ( 19th October 1911 – 5th December 1955 ) is one of the most important poet of mid 20th century. Famous for both romantic as well as revolutionary poetry, his compositions truly reflects the spirit of Lucknow School of Poetry. Family of Majaz is from Hazrat Usman Harooni, a great Sufi and Persian poet. Born in Rudauli which is famous for Sufism, his father Siraj-ul Haq was from Zamindar background. His sister Hamida Salim has documented that he was admitted to Maqdoomia School Rudauli, the best English school of the town. He did his high school from Aminabad Inter College Lucknow, Intermediate from St. John's College Agra. His Ustad in poetry was Fani Badayuni who was his neighbour in Agra and from here his interest for poetry developed.
"Tum Ki Ban Sakti Hoo Har Mehfil Mein Firdaus-e Nazar,
Mujh Ko Yeh Daawa Ki Har Mehfil Pe Chaa Sakta Hoo Mein"
His personality groomed at Aligarh Muslim University from where he did his BA in 1935. Moin Ahsan Jazbi and Aal-e-Ahmad Suroor were his close friends in Aligarh. In an article 'Jaggan Bhaiyya', Hamida Salim has written "Aligarh ke qayam ka daur Jaggan bhaiyya ki adabi zindagi aur shaoor ka roshan tareen daur hai. Zyada tar acchi nazmein is izamane me kaheen".
Aligarh Numaish (exhibition) is very famous activity and Majaz composed a nazm on the same 'Numaish Mein'. Ismat Chughtai has written that "ladkiyan unki tasveerein chupa kar rakhti aur unke naam ke qurray (lottery) dale jaate…..jidhar dekhye chaar ladkiyan 'Chaman' ke kone me sar jode kabhi 'Andheri raat ke musafir' ke saath dasht paimai kar rahi hain to kahi barbat shikasta ke taar suljhae jaa rahe hain. Do ladkiya 'Nazr-e dil' liye baithi hain to chaar 'Khaana badosh' ke saath, chand 'Raat aur rail' ke saath farrate bhar rahi hain to koi bhuli bhatki ghamgheen kisi ki yaad mein gharq munh aundhae padi hai. Gharz dil-o dimaagh mein kuch is shaan se 'aahang' chhaai ki maaloom hota tha ki koi waba boarding par lot padi hai".
Rahat Abrar from AMU has informed that he lived in Zia Compound, Marris Road Aligarh. Shorter version of his composition 'Nazar-e Aligarh', was declared as University Tarana in a function at VM Hall in 1951.
"Yeh Mera Chaman Hai Mera Chaman
Mein Apne Chaman Ka Bulbul Hoon,
Sarshaar-e Nigaah-e Nargis Hoon
Pabastae Gesu-e Sumbul Hoon"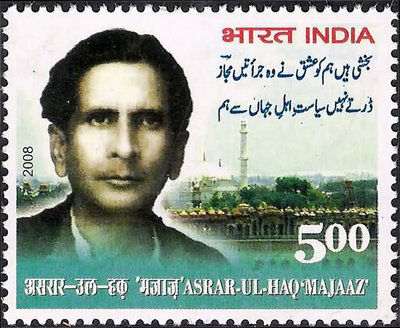 He lived in the Dar-ul Siraj in New Hyderabad locality of Lucknow which should have been the epitome of love and revolution, that was sold after his demise. The road in front of the house has been renamed as 'Safia Akhtar Marg' after the name of his sister Safia, the wife of legendary poet Jaan Nisar Akhtar and the mother of Javed Akhtar. Majaz has been a personal favorite of his nephew Javed Akhtar who picks the below couplet of Majaz as one of the masterpieces that Majaz penned:
"Unka Karam Hai Unki Mohabbat,
Kya Mere Naghme Kya Meri Hasti"
Majaz was one of the pioneer poet of Taraqqi Pasand Tehreek ( Progressive Writers Movement ). He dedicated his collection of poetry 'Aahang' to Faiz & Jazbi whom he called them as his 'Dil-o Jigar' (the near and dear ones) and Sardar & Maqdoom whom he called them as 'Dast-o Baazu' (the supporting arms). He lived in Delhi for short span of time as assistant editor of Aawaaz, journal of All India Radio. His next stay in Lucknow was very fruitful as Majaz was now considered as master poet. He was a regular visitor of Coffee House Hazratganj. Majaz was expert in both Ghazal as well as in Nazm. His nazm 'Aawaara' is considered as one of the top Nazm of Urdu poetry.
"Dekh Shamsheer Hai Yeh, Saaz Hai Yeh, Jaam Hai Yeh,
Tu Jo Shamsheer Utha Le To Badaa Kaam Hai Yeh"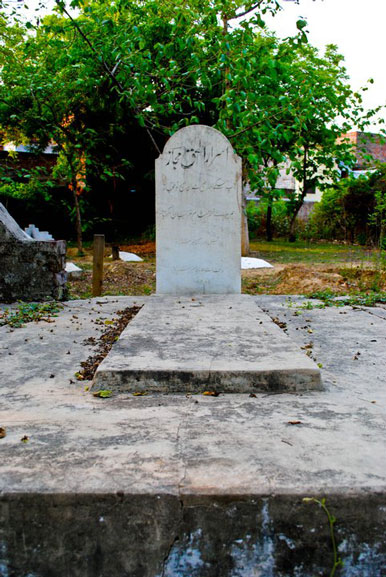 Majaz was the centre of attraction wherever he lived and his poetry was very attractive, both in form of reading as well as listening. In one of his Ghazal he promotes the cause of social awakening for women, something later got to be known as feminism in later 21st century. His following couplet can be the motto of any female movement across globe:
"Tere Mathe Pe Yeh Aanchal Bahut Hi Khoob Hai Lekin,
Tu Is Aanchal Se Ek Parcham Bana Leti To Achchha Tha"
Sehba Ali has documents about various aspects of his life in his book 'Majaz Ki Baatein'. She has reported that Majaz's sense of humour was very popular and he could crack jokes along with sound message in daily conversations. Once he was eating mangoes with Ali Sardar Jafri, the later said that "Kaise meethe aam hain Majaz, Roos mein to har cheez mil jati hogi magar aise meethe aam wahan kahan". Majaz replied there is no requirement of mangoes there as "wahan awaam maujood hain". It is believed that poetry of Majaz has pain of a broken heart. He loved a woman whom he could not marry and that is reflected in his compositions also. Such romanticism made him the Keats of Urdu Poetry.
"Chhalke Teri Aankhon Se Sharaab Aur Ziyada, Mehkein Teri Aariz Ke
Gulaab Aur Zyada, Allah Kare Zor-e Shabaab Aur Zyada"
Sharib Rudaulvi has recalled about the death of Majaz, he was General Secretary of Students Urdu Convention in 1955 which was organized in Baaradari on 3rd December. Majaz was the most appreciated poet in that Mushaira. Ganga Prasad Memorial Hall Aminabad was the venue for the day conference on 4th December and Majaz was one of the participants there. 'Lari Ki Chhat' at Lalbagh was the name coined by Majaz himself for the place where he and his friends drink overnight on 4th December. He was in open space for whole night and admitted to Balrampur Hospital next day. He died on 5th December at 10:22 pm. Tribute was paid to him at a function on 7th December at Rifaa-e Aam Club which was presided by Sajjad Zaheer. Ali Sardar Jafri has also captured this incident in his book, Lucknow Ki Paanch Raatein. Day before his death, Majaz recited this couplet as he was aware about his coming death.
"Zindagi Saaz De Rahi Hai Mujhe, Sehr-o Aijaz De Rahi Hai Mujhe,
Aur Bahut Door Aasmanon Se, Maut Aawaz De Rahi Hai Mujhe"
After surviving three times from mental breakdown, the addiction to excessive drinking cut down his life merely to short years. He is buried at Nishatganj Qabristan Lucknow. Majaz Lucknawi Road is the small lane dedicated to him which is infront of the graveyard. Postal Stamp was released on him by the government on 28th March 2008. Lucknow Society celebrated his birth centenary celebrations on 24th October 2011 as 'Subh-e-Nau'. This sher is also written on his epitaph.
"Ab Iske Baad Subh Hai Aur Subh-e Nau Majaz,
Hum Par Hai Khatm Shaam-e Gahreebaan-e Lucknow"
Ali Sardar Jafri has presented the life and poetry of Majaz in the serial Kehkashan, he is of the opinion that "Aligarh Muslim University ko apne jin farzando par naaz hai unme eik Asrar-ul Haq Majaz hai. Majaz ki zindagi eik adhuri ghazal thi. Uski shairi ka sara husn uske adhoorepan me hai. San 1930 ke aas-paas, shairi ke ufaq par eik khubsurat sitara jagmagaya, logo ne hairat aur masarrat se uski taraf dekha, lekin dekhte hi dekhte woh aasmaan par chandi ki eik lakeer banata hua guzar gaya".
"Yeh Rang-e Bahaar-e Aalam Hai
Kyun Fikr Hai Tujhko Aye Saaqi,
Mehfil To Teri Sooni Na Hui
Kuch Uth Bhi Gaye Kuch Aa Bhi Gaye"
Aal-e-Ahmed Suroor has beautifully summarized his life and writings as "Aap ko shayad is baat se tasalli na ho magar waqia yeh hai ki Majaz bada mukhlis, bada dil- nawaaz, bada pyara insaan tha, woh sab ka dost tha sirf apna dushman tha. Usne apni shayari, apni sehat, apni zindagi sab apni kamzori ki nazar kardi. Sab dekhte rahe aur kuch na kar sake. Majaz ki shayari khubsurat, pursoz, jawaan aur jaandaar shayari hai jo zinda rahegi. Usse to waqt ka zaalim haath bhi nahi mita sakta. Majaz ki zahanat, uski mohabbat, uski dilruba shakhsiyat, uski zinda-dili ki yaad uske dosto ke dil se kabhi mahu na hongi"
"Zamaane Se Aage To Badhiye Majaz,
Zamaane Ko Aage Badhana Bhi Hai"
Atif
(Published in The Lucknow Observer, Volume 1 Issue 7, Dated 05 October 2014)