Arunima Sinha 'Sonu'
The Courageous Conquest of an Amputee
Arunima "Sonu" Sinha (born 1988) was the first female amputee to climb Mount Everest. She was also the first Indian amputee to climb Mount Everest. She was awarded Padma Shri, the fourth highest civilian award of India, in March 2015.
She was a national level volleyball player who was pushed from a running train by thieves in 2011 while she was resisting them. One of her legs had to be amputated below the knee as a result.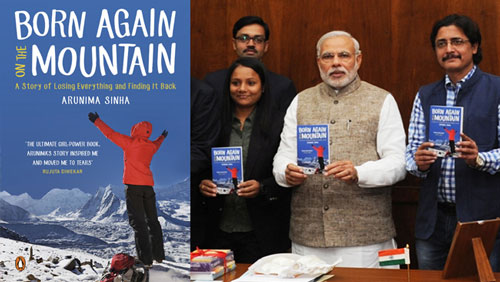 Sinha, a former national volleyball and football player, boarded the Padmavat Express train at Lucknow for Delhi on 11 April 2011, to take an examination to join the CISF. She was pushed out of a general coach of the train by thieves wanting to snatch her bag and gold chain. Recounting the incident, she said "I resisted and they pushed me out of the train. I could not move. I remember seeing a train coming towards me. I tried getting up. By then, the train had run over my leg. I don't remember anything after that" Immediately, as she fell on the railway track, another train on a parallel track crushed her leg below the knee. She was rushed to the hospital with serious leg and pelvic injuries, and lost her leg after doctors amputated it to save her life.
She was offered compensation of 25000 (US$390) by the Indian Sports Ministry. Following national outrage, the Minister of State for Youth Affairs and Sports Ajay Maken announced an additional Rs. 200000 (US$3,100) compensation as medical relief, together with a recommendation for a job in the CISF. Indian Railways also offered her a job.
On 18 April 2011, she was brought to the All India Institute of Medical Sciences for further treatment, spending four months at the Institute. She was provided a prosthetic leg free of cost by a private Delhi-based Indian company.
An inquiry by the police into the incident threw her version of the accident into doubt. According to the police, she was either attempting suicide or met with an accident while crossing the railway tracks. Arunima claimed that the police were lying. Contrary to the police claims the Lucknow bench of Allahabad high court ordered Indian Railways to pay a compensation of 500000 (US$7,900) to Arunima Sinha.
Mount Everest ascent
While still being treated in the All India Institute of Medical Sciences, she resolved to climb Mount Everest. She was inspired by cricketer Yuvraj Singh, who had successfully battled cancer, "to do something" with her life. She excelled in the basic mountaineering course from the Nehru Institute of Mountaineering, Uttarkashi, and was encouraged by her elder brother Omprakash to climb Everest with a prosthetic leg, which was arranged by raising funds with the help of a swami of Ramakrishna Mission, Vadodara.
She contacted Bachendri Pal, the first Indian woman to climb Mount Everest, in 2011 by telephone and signed up for training under her at the Uttarkashi camp of the Tata Steel Adventure Foundation (TSAF) 2012.
Sinha climbed Island Peak (6150 metres) in 2012 as preparation for her ascent of Everest.
The climb
On 1 April 2013, Sinha and Susen Mahto, a TSAF instructor, who had together climbed Mount Chhamser Kangri (6622 metres) in 2012 under the guidance of Bachendri Pal started their ascent of Mount Everest. After a hard toil of 17 hours, Sinha reached the summit of Mount Everest at 10:55 am on 21 May 2013, as part of the Tata Group-sponsored Eco Everest Expedition, becoming the first female amputee to scale Everest. She took 52 days to reach the summit. She wrote a small message thanking the Almighty on a wrapped cloth and pressed it in the snow. Recounting the incident, she said "It was my tribute to Shankar bhagwan, and Swami Vivekananda who has been an inspiration throughout my life" She was congratulated by the Indian Sports Minister Jitendra Singh on her achievement. Uttar Pradesh chief minister Akhilesh Yadav honoured Arunima Sinha, the first amputee to climb Mount Everest.
Chief minister handed over two cheques for an amount of Rs. 25 lakh to Sinha at a function inLucknow.
These included a cheque of Rs. 20 lakh from the state government and a cheque of Rs. 5 lakh on behalf of the Samajwadi Party. Chief minister said Sinha by her hard work and determination had climbed the Mount Everest and created a history.
Arunima Sinha is now dedicated towards social welfare and she wants to open a free sports academy for the poor and differently-abled persons. She is donating all the financial aids she is getting through awards and seminars for the same cause.The academy would be named Pandit Chandra Shekhar Vikalang Khel Academy.
She has written a book "Born again on the mountain", launched by Prime minister of India Narendra Modi in December 2014.
She was awarded Padma Shri, the fourth highest civilian award of India, in 2015.
H.N. Singh
Writer is a member of Lions Club and a devoted citizen of Lucknow
(Published in The Lucknow Observer, Volume 2 Issue 14, Dated 05 May 2015)