Lucknow's Milestone @ Tobacco Manufacturing
Ahmad Irfan
Khan Bahadur Syed Ahmad Husain Rizvi, M.B.E., K.B., M.L.C., son of Mir Syed Dildar Husain Rizvi, was the pioneer of famous 'zarda' betel tobacco Messrs. Ahmad Husain Dildar Husain manufacturers of Betel Tobacco, Lucknow, was Born in Jaes town of Rae Bareily in 1874. Khan Bahadur Syed Ahmad Husain Rizvi is regarded as one of the most renowned citizens of Awadh province. He hailed from the noble lineage of Rizvi Syeds who commanded much influence and power at the Mughal Durbar and had possessed sizeable estates in Mughal Nizamat of Kannauj.
Historically, Kannauj is a famous hub of perfumery in India. Mir Syed Dildaar Husain Rizvi passed away when Syed Ahmad Husain Rizvi was about fourteen years old. His family migrated to Lucknow and settled at Ahiri Tola, Sarkata Nala, in Lucknow with his maternal uncle Mir Syed Ali who was the descendant of Hazrat Shah Meena Shah, whose Dargah is situated beside King George Medical College, Lucknow.
It was during his years of education, in 1890 to be precise, that Syed Ahmad Husain Rizvi started the tobacco enterprise as a household business. Subsequently, this business was launched in the market with exclusive preparations derived from raw tobacco leaf which were cured under a special process called 'Zarda'. By blending natural perfumes and spices, this process mitigated the harmful effects of nicotine and brought a unique scent and flavour to betel tobacco. Thereafter, he opened his own retail shop in Chowk, Lucknow. Years after, on 30th March 1946, the business was registered as Ahmad Husain Dildar Husain Pvt. Ltd. (AHDH) with an authorized capital of Rs. 1000 under the Company's Act, and the company's registered office was situated in 305/1, Chowk, Lucknow. Because of its sustained high quality and pure ingredients, it wasn't long before AHDH tobacco became a household name, serving everyone from the top notch in society to the common man.
As the popularity of this product grew and the company expanded, Ahmad Husain Rizvi introduced five different qualities of chewing tobacco. These were named 'Awwal', 'Doem', 'Soem', 'Chaharrum' and 'Panjum' from the first grade to the fifth in respective order. In the history of North India's tobacco trade and entrepreneurship, the wholesaler was often also the manufacturer, and businesses that thrived mostly emerged in consumption centres. Uttar Pradesh, therefore emerged as an important centre, with a major concentration of chewing tobacco industries based in Lucknow despite the emergence of hundreds of decentralised units of Zarda production in Mahnad belt of Vaishali disctrict. Until then, raw tobacco was primarily sourced from Sitapur, Bahraich, and Muzzafarpur districts. Historican L.P. Singh mentioned in his book 'Economics of Tobacco Cultivation, Production and Exchange' that Lucknow entrepreneurs had developed some special techniques and 'know how' in themselves that added special flavour in their production, naming Ahmad Husain as a pioneer producers of Zarda.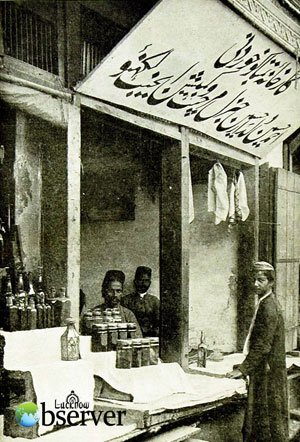 When this brand was publicized in those days, the caption went like "Ahmad Husain ki khurdani tambakoo, Paan ki jaan, Pandaan ki shaan'. 'Awwal', also known as Mushki Dana, was blended with natural perfumes like Musk, Saffron and Sandal etc., and these were packaged like granules folded in pure golden warq (thin and fine gold foil). This brand was specially prepared for up market consumers. 'Panjum' was the most popular among the common consumers.
Khan Bahadur Syed Ahmad Husain Rizvi was not only a pioneer of his trade but was also a social reformer and had rendered valuable contributions and service to society. His distinguished public career started in 1916 with his election as municipal commissioner of Lucknow. In 1918 he was appointed Honorary Magistrate and in 1919 on the creation of the Improvement Trust, he was nominated its trustee. In 1921 he was given the second class magisterial powers and in 1922 he was awarded Sanad from his Excellency, the Governor of United Provinces, in recognition of his meritorious public services. In 1925 he became the managing proprietor of the daily 'Hamdam' newspaper, the most popular and widely circulated daily in North India. In recognition of his distinguished services, the distinction of 'Khan Sahib' was conferred on him in 1927. He rose to the chairman of the Lucknow Improvement Trust in 1928 and he was also made a special magistrate with the first class powers. In the same year he was elected to the membership of the committee of Oriental Studies in Lucknow University.
He was the founder secretary of Anjuman Islah-ul Muslimeen and Mumtaz Orphanage in Lucknow, and a member of court of Aligarh Muslim University. He was a special magistrate 1st Class for lifetime and was elected to U.P Legislative Council in 1937. Other important titles were bestowed to this self-made man of such prominence and ability, such as in 1935 when he was awarded a coronation medal in commemoration of the Majesties Silver Jubilee and in 1938 the distinguished title of M.B.E.
Beside his public service engagements professionally, Syed Ahmad Husain Rizvi had business interests with many leading business houses of the country, which included Compier Ganj, Pipraich and Buland Sugar Mills; Sitapur Electric Supply Co. Ltd.; Reserve Bank Of India; Member of the Advisory Board of Central Bank Of India Ltd.; Board member of Ganga Prasad Memorial Trust, Lucknow, among others.
Khan Bahadur Ahmad Husain Rizvi was an example of self service and honest entrepreneurship. He rendered valuable services to the society with his vision, hard work, dedication and moral values. His exemplary achievements and contributions remain unparalleled among his contemporaries. He passed away on 28th December 1955, and was buried at the family graveyard at Aishbagh, adjacent to Eidgah Aishbagh. He was survived by his wife, three sons and four daughters. Road leading from Aishbagh flyover till Haiderganj crossing is named after him. Ahmad Manzil where his descendants continue to reside stands testimony to the fact that he was a great visionary far ahead of his time !
"Mat Sehel Humein Jano Phirta Hai Falak Barso'n
Tab Khaak Ke Parde Se Insaan Nikalte Hain"
Writer is a corporate professional and an expert of Lucknow's heritage
(Published in The Lucknow Observer, Volume 1 Issue 9, Dated 05 December 2015)